Another tag which Ryuji-先輩 bestowed upon me was the 3 Days 3 Quotes (Thankfully not 91 Days XD) where you post a quote for three consecutive days. Thank you Ryuji-先輩 for this inspiring tag (quotes are inspiring man!) Because of my incompetency, I'm tackling this tag only right now. Kind of unfair right? I'm given so much time to think about this, so this won't be a challenge at all.
Or maybe it is… After Ryuji's careful picks, I can't be sloppy when choosing these quotes. You know… I've got to (*insert yandere face here*) impress my SENPAI.
=====
Turns out there are still rules~

Thank the person who nominated you.
Post a quote for 3 consecutive days (1 quote for each day, can be a super short post).
Nominate three new bloggers each day.
I've seen that quote a number of people in the community have answered this tag, so I'll make this a 3 Days of Inspiration instead, starting from Friday (or Thursday for those of you in a different timezone).
=====
Friday… Friday… 金曜日. That would be #心金曜日.
It's time for some feels! Here's a quote that I find particularly emotional and definitely insightful: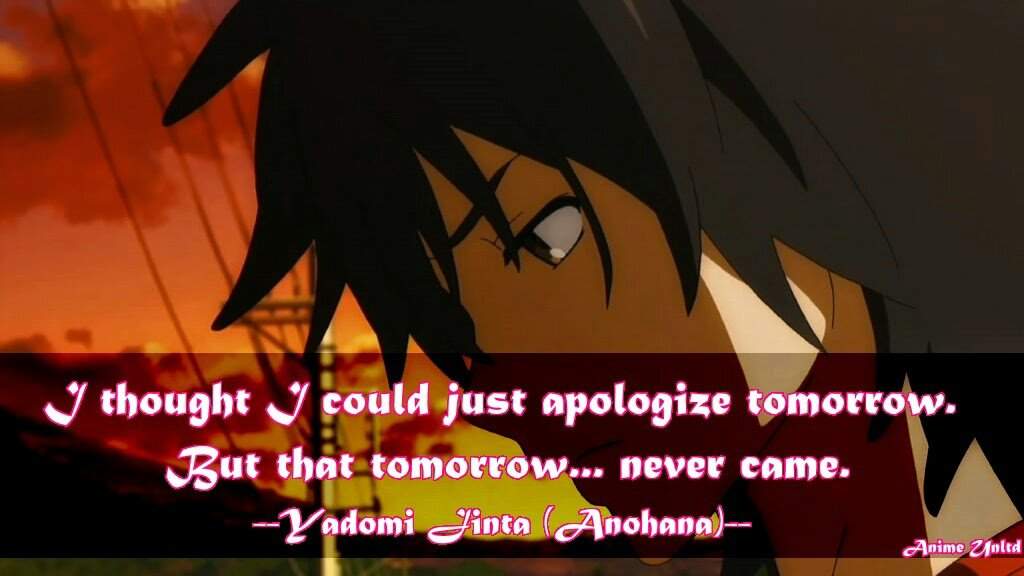 It kind of reminds me of One Week Friends as well. Friday being the last day where classmates/coursemates meet up and interact with one another. You'll never know what happens over the weekends, or more immediately on the way back home. If it is something or someone important to you, then there is no better time than now, whether we want to thank them or apologize to them.
Life is unpredictable. Keep your friends close, and the important people in your life closer.
=====
That's Day 1 folks! Thanks for reading!
Take care~
Image courtesy of creator as mentioned in the quote.